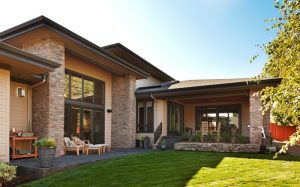 Pretty much any home in our area has a main sewer line running beneath the property. This sewer line connects your various drain lines to the city's main civic sewer system, and since it's buried beneath your yard, it's mostly protected from damage. However, when problems do occur, they can be quite a big hassle.
At least, that used to be the case! Now, with Glenview, IL trenchless technology, it doesn't have to be—your sewer line can be repaired in a fraction of the time with much less cost. Keep reading to learn more.
The Problem with Sewer Line Damage
In and of themselves, there's not much separating a problem with your sewer line from a problem with any other household pipe. Things like leaks, clogs and other problems can plague any portion of your plumbing, and solutions, generally speaking, don't differ much.
The problem with a sewer line, however, is that it's more difficult to reach the pipe in order to perform repairs or replaced any damaged portion(s). Since the sewer line is buried underground, repairs used to mean a full excavation, requiring a lot of equipment, significant man hours, and subsequent service costs for you. Additionally, it meant tearing up the yard from end to end, disrupting your landscaping and livelihood.
Trenchless Technology Makes Life Easier
Trenchless technology has a number of benefits when it comes to correcting problems with your sewer line. It begins with video camera inspection, which we use to get an accurate idea of what the problem is and exactly where it's located.
Getting the right tools and down to the sewer line is easier, too. Rather than your whole yard being torn up, a pair of small holes are dug on either side of the problem locations, and the technician can then run down the appropriate corrective measure, whether you need relining or complete sewer line replacement. This saves your technician time, but more importantly, it saves you inconvenience, time, and money.
For expert plumbing service, installations, or maintenance contact Reliance Plumbing Sewer & Drainage, Inc. Our knowledgeable plumbers serve the North Shore and Northwest Chicago suburbs. Rely on Reliance!