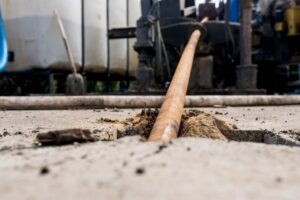 To answer this question, it first helps if you understand what pipe relining is. This describes a process where we insert, through trenchless technology, an inflatable lining that hardens once it's inserted into your sewer line. This is the easiest way to fix leaks and other damage that may have occurred to your sewer line.
Most homeowners don't really think about this much, but the sewer line of your plumbing system is probably the most important part of your plumbing system, removing wastewater from your home safely and hygienically.
Sewer lines are usually buried beneath the yard, which keeps them unexposed so they're less likely to suffer from damage that can come due to weather-related wear and tear or animals. Unfortunately, this doesn't mean they're immune to problems, and those problems can be hard to spot since the sewer line is underground.
So how can you spot sewer line trouble, such as a leak?