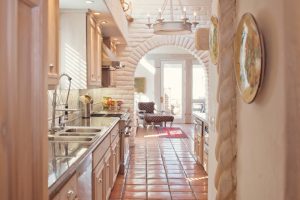 Let's put it this way—it's not minor! In fact, once a slab leak has progressed to the point that you actually see the damage it's causing, if it's after-hours then it's time to call for 24-hour plumbing in Park Ridge, IL.
Now, the chances that you'll own a home for 50 or so years and never run into a problem with your plumbing system are very slim. Some plumbing problems are in fact very minor—such as a leaky faucet or a slow-moving drain that requires a pro with a drain snake to easily remove (please, don't use caustic, store-bought "solutions.")
So, what makes a slab leak so bad? After all, all leaks are equal, right? Well, it's not that a slab leak is unique or special in some way, but the damage it can and does inflict is nothing to take lightly.
It's All About Location
No matter where it's happening in your home, a leak is a problem and you want it resolved ASAP. That said, there are some leaks that are more problematic than others, and a slab leak is one of them—due mainly in part to where it is located.
A slab leak is a leak that occurs in a water line buried beneath the concrete slab on which your home is constructed—that is, your home's foundation. This leads to a few subsequent problems.
First off, it can be very hard to recognize that you even have a leak to begin with. We've got a few tips to help with this, though. Keep an eye on your water bill! If you're seeing your costs creep up with no explanation (you're not using any more than usual and you haven't received any notice that water use prices are going up in your neighborhood or community), then there's a very good chance you have a leak somewhere.
Another sign of a leak is that you hear running water when there is none in use. Pay close attention to where the sound is coming from. Could it possibly be beneath you? Warm spots are another thing to pay attention. Slab leaks are most likely to occur in the hot water line, so it may very well create warm spots beneath your flooring.
It's Time to Hire a Pro!
The first challenge with a slab leak may be recognizing that you have one, but the next is having it repaired, and dealing with the aftermath. As you might imagine, a slab leak is tough to pinpoint, and to access in order to repair, even after discovery.
You do not want to be tearing up your concrete slab (read: your flooring!) any more than you need to, so you really don't want to go into this job blind.
Instead, you can count on our plumbers to come in and accurately pinpoint where exactly the leak is occurring, with tools like video pipe inspection. From there, we can give you your options. Depending on where it is and depending on the age of your pipes—newer pipes are usually less susceptible to a problem like this—you may choose to have a plumber go ahead and go through your flooring to repair the leak.
This will also give you a chance to make sure the leak hasn't created other problems such as mold and mildew development.
The other option is repiping and having this particular part of your plumbing system rerouted so that instead of running beneath your home, your pipes run behind drywall or around your property. When you hire our pros to inspect, you can rest assured that you'll be given all the information you need to make an educated decision.
For expert plumbing service, installations, or maintenance contact Reliance Plumbing Sewer & Drainage, Inc. Our knowledgeable plumbers serve the North Shore and Northwest Chicago suburbs. Rely on Reliance!