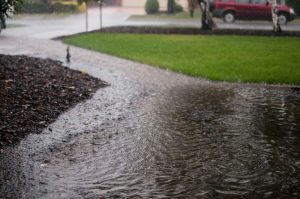 We often have surprise storm activity in Chicago, and the fall rainy season is approaching. That means we are in prep time: do you know if your home is equipped to handle the heavy rains of the coming season? We can help you find out what you need to do about your plumbing in Winnetka, IL, drainage systems, yard drainage, sump pumps, and more to ensure you won't have to deal with expensive damage during the rainy season.
Sump Pump Reminder
Few parts of a home are more important for stopping damage from flooding than the sump pump. Last month we addressed an important maintenance tip for homeowners: testing the sump pump so it's ready in case of flooding. If you haven't tested your sump pump yet, please read that post and go through the steps. If you need to call professionals to repair the sump pump, do it as soon as possible.
You may also need to have a new sump pump installed if you have an older unit. When you call our plumbers to check on the pump to see why it won't work, ask if it's more cost-effective to have an old pump replaced with a new one. You want a sump pump you can trust to work when you need it—otherwise what good is a preventive device?
Check on Your Flood Control Systems
If your first reaction is "What flood control systems?" then we're glad we brought this up. In an area where homes are prone to flooding, it's vital they have special flood control systems built-in. These include rain gutters, rain harvesters, and window wells for basement windows to stop water seepage into the lowest parts of the house. We recommend cleaning gutters as well as storm drains on your property. If you don't have window wells for your basements, please get in touch with us—this is an invaluable installation.
Yard Flooding
Not only your house but your property is in danger of flooding because of heavy rains. Your property may have danger areas because of water building up near downspouts or because of slopes on the yard causing pooling to occur. If you have encountered any issues with yard flooding previously, don't simply hope it won't occur this year. Call our plumbers to inspect your property and make repairs to downspouts or correct sloping problems.
We are drainage experts and can spot trouble areas you may not have even realized existed before. We can install a professional yard drainage system using special drain troughs placed in the low spots of your yard. These troughs siphon away water from gathering in these spots and instead move the water toward the street or into your storm drainage system. We'll not only do the work correctly, we'll make sure it is up to local codes—i.e. the drainage system won't simply channel the water onto someone else's yard!
For expert plumbing service, installations, or maintenance contact Reliance Plumbing Sewer & Drainage, Inc. Our knowledgeable plumbers serve the North Shore and Northwest Chicago suburbs. Rely on Reliance!