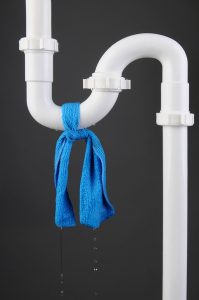 One of the most common reasons we get called for professional Glenview, IL plumbing services is due to a leak. It's almost inevitable that at some point during your homeownership, you'll experience one. But by knowing what the most common leaks are, and how to spot the signs that you have a leak, you can get it taken care of quickly, before it has too much of a chance to do damage.
Remember though, it's always important that you allow someone with the proper licensing and experience handle the repair of your leak. Otherwise, you might be left with worse problems than you started with.
Popular Leaks
Being popular isn't always a good thing, especially when it comes to how much damage you can inflict. Popular leaks are one of those things that aren't welcome in any home! And often, it can take weeks or even longer for the average homeowner to even know they have a leak, since many pipes and plumbing components are hidden behind walls or beneath the floors. The most common types of leaks we get called for include:
Pipe leaks under sinks
Slab leaks/Foundational leaks
Leaks behind drywall
Toilet leaks
Water heater leaks
Drippy faucets are another common leak, but they don't tend to be too huge of a concern since they're spotted so quickly, and the water leaking out simply goes down your drain. But the above-mentioned leaks are important to know about. Even more important? Knowing the signs you're dealing with one of them…
The Top Signs You Have a Leak
While you need to hire a professional for professional leak detection services in order to pinpoint the exact area and cause of a leak to have it repaired, there are some indicators you can watch out for and listen for on your own. These include:
The Sound of Running or Dripping Water: If there are no plumbing appliances on in your home, nobody is taking a shower, and no sinks are being used, then you should not detect the sound of running or dripping water in your home. If you do, it's a sign that water is leaking from somewhere and it's time to call a pro.
Soft Spots on Drywall or Ceiling: Over time, moisture from leaking pipes can damage the drywall or ceiling the pipe is behind or above. This will eventually lead to soft spots in your walls or ceiling. Keep in mind, by the time this happens the leak has probably been happening for at least a few days, so you'll want to address it right away!
Loss of Water Pressure: A loss of water pressure means that something is preventing waterflow from being as powerful as it usually is. This may be the result of some work being done in your city, so you should of course be cognizant of that first and foremost. But in the absence of citywide plumbing work, this probably means you have a leak somewhere. If water pressure throughout your home is affected, it likely means your main water line is in trouble.
These are just a few of the signs you have a leak. Be sure to reach out to our team for leak repair!
For expert plumbing service, installations, or maintenance contact Reliance Plumbing Sewer & Drainage, Inc. Our knowledgeable plumbers serve the North Shore and Northwest Chicago suburbs. Rely on Reliance!