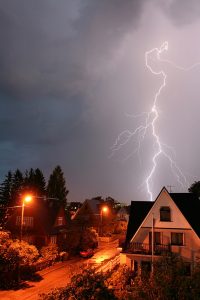 It's that time of year again! The snow is melting away only to be replaced by weeks of torrential downpours. Stormy weather is not pleasant to contend with, but the good news is there's something you can do about it, and we can help!
No, no, we don't mean we can control the weather. We wish we had Mother Nature on speed-dial, but alas our powers lie more in plumbing in Des Plaines, IL. And the good news is, there are plenty of plumbing devices and systems that can help you prevent home damage due to stormy weather.
Consider the Sump Pump
Do you already have a sump pump in place? What kind of shape is it in? This system is tasked with removing excess water from the lowest point in your home. In most cases, this will be the basement. Your sump pump is basically a water pump. It uses electricity in order to power a motor that draws water from an excavated pit (the sump). The water is then pushed into the wastewater system of your plumbing or into a well.
These are great plumbing appliances for managing floodwaters, and also very helpful in neighborhoods with high water tables, which cause moisture to seep down into your basement. We offer all types of sump pumps, from basic models to the most premium. If you don't already have one or yours is shot, please don't hesitate to reach out and learn more from our team.
Do You Have a Storm Drainage System Installed?
Water buildup on your property is not only unsightly, it can become unhygienic too. Soggy yards and landscaping leads to problems like excessive insect population, leaks in the foundation, mold growth inside your property and out in the surrounding areas, and much more.
A professionally installed storm drain system will allow you to avoid this damage! Consider adding foundation drains around your home, as well as catch basins and/or rain barrels.
Additional Steps You Can Take
With or without storm drainage systems in place, there are steps you can take to mitigate damage in and around your property when heavy rains come. These steps include:
Clearing the Gutters: These exist to catch rainfall! If they're too clogged up with leaves and debris, your gutters can't do their job.
Checking for Leaks: Have you noticed discoloration or soggy spots on your ceiling? This may be due to roof damage that's enabled moisture from the outside to make its way in.
Sealing Windows and Doors: If you have drafty doors and windows letting air in and out, then they can also let moisture in and out. This can be very damaging to the wood framing of your home, not to mention any furniture or flooring that gets wet due to the leakage.
Inspecting Your Basement: You're in good shape if you have a functional and well-maintained sump pump in your basement. It's still a good idea to do an inspection of this room and make sure any electrical connections are at least a couple of feet off the ground. This protects your electrical devices and your safety.
For expert plumbing service, installations, or maintenance contact Reliance Plumbing Sewer & Drainage, Inc. Our knowledgeable plumbers serve the North Shore and Northwest Chicago suburbs. Rely on Reliance!