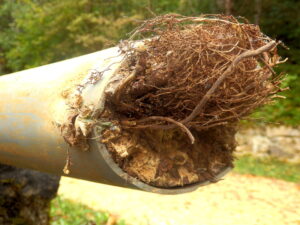 If there is any part of your plumbing system that's most important, it may very well be the sewer line—the pipe that removes wastewater from your property and moves it into the civic sewer system cleanly away from your home. Sewer lines are usually buried underground, in your back or front yard, safe from damage that can come from inclement weather and other types of wear and tear.
Unfortunately, this doesn't mean that your sewer line is immune to all problems. Your landscaping like trees and shrubs can grow roots that infiltrate the line, for instance. A shift in the soil could cause instability and pipe breakage, too.
Fortunately, if this does happen, all you need to do is give our team a call. But, how do you know when it's time to call? Read on as we uncover some common signs of sewer line damage.
Puddles in the Yard
A sewer line that's been damaged can produce puddles in your yard or property. Take note if you see puddles and there is no other reasonably explanation, like recent rain or even a broken sprinkler head.
Lush Landscaping
The plants, grass, and shrubbery can use a leaking sewer line as a source of fertilization and watering. Like we mentioned above, even tree roots can infiltrate your sewer pipes.
Slow Moving Drains
A clogged up pipe or backup in the drains isn't that uncommon in the average American home. But when your sewer line gets backed up, it will probably leave all the drains in your home slow or completely stopped up. This is definitely not something that should be ignored if it happens in your home.
Mold and Bacteria Growth
Leaks in your sewer line can easily lead to an explosion in mold growth and bacteria in your home. It's never a good sign to have this on your properly as it can make you sick. This is especially true if you or family members already suffer from allergies or asthma.
Foul Odors
Have you walked through your home and noticed bad smells coming out of your drains? This can, unfortunately, be a sign that your sewer line is blocked and it's backing up into the drains. It happens because there is a high level of gasses and other odorous components that travel through the sewer line.
Cracks in Your Foundation
Any liquid released from an underground pipe can cause pressure to build up that will eventually damage the concrete of porches and swimming pools. Now, it's natural for an older home to have some small fissures in the foundation—this happens as the house "settles" over the years. But if you're noticing new or pretty severe cracks, it's time to call us. This could be a sewer line leak, or could be a leak with the main water line or another pipe that runs under the home.
For expert Wilmette, IL plumbing service, installations, or maintenance contact Reliance Plumbing Sewer & Drainage, Inc. Our knowledgeable plumbers serve the North Shore and Northwest Chicago suburbs. Rely on Reliance!