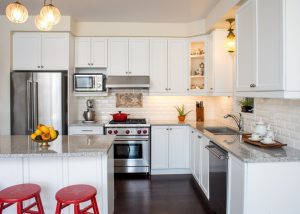 Winter is a popular time for small indoor remodeling projects, since you aren't spending a whole lot of time outdoors. But those small projects can be come huge to-dos if not done correctly, or with professional assistance.
Take your Glenview, IL kitchen plumbing for instance. There are a lot of things that can go wrong with your plumbing on a normal day—a jammed garbage disposal, a clogged drain, a leaking dishwasher. Adding an amateur remodel job to the mix could be the recipe for disaster! Not to fear, though. We have some tips for you on how to plan around your plumbing—or rather, with your plumbing—when doing a kitchen remodel.
Do Any Fixtures Need Moving?
Before you start your kitchen remodel, take notes of anything you may want to move. Your oven? If it's gas powered, you'll need to think about your gas piping. Or how about your refrigerator? The ice maker is attached to your plumbing, so you'll want to consider that too. Working with a professional is the best way to ensure that you aren't making any hasty decisions with your remodel.
Consider Plumbing Reroutes
This is where we come in. Once you know where you want fixtures moved, our professional plumbers can come in and reroute your plumbing so that it fits the needs of your kitchen remodel. This is an important first step before you even begin your remodel job, as it can involve cutting into drywall or potentially even flooring.
Add Shutoff Valves
If your kitchen plumbing fixtures don't already have water shutoff valves, it's time to have them installed. This gives you control over your plumbing and ensures that in an emergency you can quickly turn off the water supply even if you can't access your main water shutoff right away (which is actually quite common in multi-housing complexes).
These are just a few of our kitchen plumbing tips! For more advice, and expert plumbing service, installations, or maintenance contact Reliance Plumbing Sewer & Drainage, Inc. Our knowledgeable plumbers serve the North Shore and Northwest Chicago suburbs. Rely on Reliance!