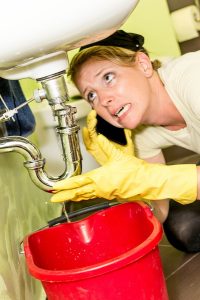 With our area's snowiest winter in 3 years, it may seem strange that we're already talking about spring, but it's always best to be prepared, even when it comes to your home's plumbing. Actually, especially when it comes to your home's plumbing.
Our Evanston, IL plumbers are standing by to help with whatever plumbing needs may arise, but we would like to help you avoid the most common springtime emergencies if at all possible. Keep reading to learn more!
Gutter Blockages
Snowmelt mixed with springtime growth means that your gutters can quickly get stopped up with twigs, leaves, and other organic debris. If all of this were to enter the downspout, you'd have a major blockage on your hands, and potentially a significant amount of water damage. When the temperatures begin to warm and the snow starts to melt, be sure you check your gutters on a regular basis to clear out any debris.
Poor Water Pressure
One of the biggest threats to your home's plumbing in the wintertime is frozen pipes. Unfortunately, it's not when your pipes freeze that damages them the most—it's when they begin to thaw. As the thaw, the pressure changes can cause your plumbing to crack and begin leaking—or even burst. As a result, you'll probably notice this because the water pressure throughout your home will drop significantly.
It's also important to note that a drop in water pressure can be cause by a blockage in your main water line. Whatever the case, low water pressure is never a good sign and absolutely warrants a call to a professional plumber.
Leaky Pipes
We mentioned frozen pipes leading to leaks—if your plumbing is aging then it is even more susceptible to this problem. In fact, even without completely freezing older plumbing systems and outdoor plumbing fixtures such as your hose bib are vulnerable to cracks and subsequent leaks.
If your plumbing was installed before the 70's or so, it's a good idea to have it inspected to ensure it's ready to hold up for another year. If not, it may be wise to invest in repiping.
Poor Outdoor Drainage
As the snow melts and the springtime rain begins, you'll need your property to drain effectively so that water doesn't pool around your home's foundation. Improper outdoor drainage can lead to a sudden onset of water, particularly if your home has a basement level.
To ensure your outdoor plumbing is in good shape, it's a good idea to have your exterior pipes inspected at the beginning of spring, and repaired if the situation calls for it. If drainage problems exist, we can work with you to find an appropriate solution.
Slow Drains
If all the drains in your home are slow, then it likely means you have a blockage in your sewer line. Unfortunately, this can be caused by tree roots, which grow towards the presence of water. If your sewer line has even the smallest leak, it's enough to encourage the rapid growth and intrusion of these roots. Springtime seems to be the most common time of year for this to happen.
As far as preventing this problem, it's a good idea to have our pros inspect your plumbing and see where it's located in relation to your landscaping, to see if a change can be made—such as rerouting you outdoor plumbing or repiping if you already have a damaged sewer line.
For expert plumbing service, installations, or maintenance contact Reliance Plumbing Sewer & Drainage, Inc. Our knowledgeable plumbers serve the North Shore and Northwest Chicago suburbs. Rely on Reliance!