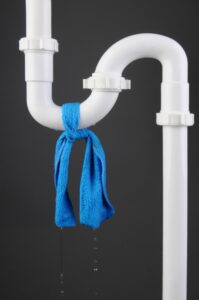 How are you spending this holiday season? We know, it's going to look a lot different this year. But hopefully, you're able to enjoy festivities with your immediate family or even a small group of friends who are part of your "quaranbubble."
Whatever you're planning to do, if guests and big meals are involved, you need to pay attention to your plumbing system. If you haven't had plumbing maintenance done in over a year, then now's the time to schedule it! But in addition to that, it's important to know how to prevent the most common holiday plumbing woes. Of course, when you do have a plumbing problem, you can just contact us to get in touch with a trustworthy Skokie, IL plumber. In the meantime, read on as we dive into some plumbing factors to keep in mind.
Consider Your Kitchen Sink
One of the most frequent service calls we get during this time of the year is to relieve a kitchen sink clog or blockage. There are a number of possible causes for this plumbing problem. There are certain foods—potato skins, corn husks, celery stalks, fruit pits—you should never put down your kitchen sink drain, but too many homeowners do. This is true even if you have a garbage disposal—they're powerful but not indestructible!
Another thing that should never go down your drain is FOG. What's FOG, you ask? Fats, oils, and grease. Unfortunately, these are common byproducts of cooking, and they solidify when they cool down. So when you pour FOG down the drain, you risk causing clogs and blockages. Even if the clog doesn't happen right away, you're increasing the risk that it will happen soon.
Last, but not least, you want to think about food items that expand with water. This includes rice, beans, pasta, and bread for instance. These all act like a sponge, growing as they get saturated with water. They can easily clog up the drain.
Consider the Bathroom Area
If you are going to have overnight guests over this holiday season, you'll want to think about your bathroom area. It's likely that you're already planning on reducing the risk of germ spread, maybe by putting paper cups in the bathroom and towelettes instead of letting guests use your bathroom towels.
What you have to keep in mind though, is that your idea of what's okay to flush down the toilet might be different than your guest's. It's important to set some ground rules and have a clearly visible trash can in your bathroom for your guests!
Consider Your Water Heater
Is your water heater in good shape? If you have an aging water heater, you'll want to think about the added demand that's on it due to overnight guests or even party guests. Make sure your water heater is able to handle the demand by getting it maintained or perhaps even upgrading it if it's reaching the end of its lifespan.
For expert plumbing service, installations, or maintenance contact Reliance Plumbing Sewer & Drainage, Inc. Our knowledgeable plumbers serve the North Shore and Northwest Chicago suburbs. Rely on Reliance!