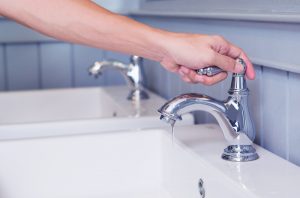 Let's put it this way—those hygiene practices can certainly lead to problems with your bathroom plumbing! Due to this, a common service we recommend is routine drain cleaning as part of your overall plumbing maintenance plan.
Of course, regardless of maintenance, if you do have an urgent plumbing problem you needn't look too far for an emergency plumber in Des Plaines IL!
But with maintenance, our plumbers can successfully keep your drainpipes clear and free with advanced tools like drain snakes and hydro-jets. This helps remove buildup that can lead to frequently clogged drains, and prevents your plumbing system from suffering damage. When you're ready to schedule drain cleaning, give our team a call. In the meantime, read on as we uncover a couple hygiene practices that could lead to plumbing issues.
Brushing and Washing Your Hair
No, we don't want you to stop doing this, nor do we want you to start attempting to do it over your kitchen sink. But, your bathroom sink and shower drains are pretty susceptible to clogs from hair. Hair catches easily in the curved piped section below the bathroom sink—a component called the p-trap. When this happens, it starts to catch other hair follicles until a clog builds up.
Drain covers are your remedy to this! You'll be able to find mesh, metal, or even rubber drain covers at any hardware or bathroom supply store, and even online.
Using Oil-Based Cleansers and Beauty Products
More and more individuals are using things like coconut oil for teeth whitening and facial masks, and bath bombs for softer and healthier skin. These are all great products, but they can do a number on your sink and bathtub drains!
This is especially true if you experience hard water in your home. This is water with a high level of minerals such as calcium and magnesium. These minerals make it hard for even basic soap to break down as it goes down your drains, let alone oil-based products.
Soap scum, by the way, is another common threat to your bathroom sink and bathtub drains, by the way! Ask us about the installation of a whole-house water softener to combat this!
But what happens is that unless you're able to get the water very hot, soap scum and oil residue doesn't get fully flushed down your drainpipes. Rather, they go partially down, stick to the walls of the drainpipes, and then harden and start building up a clog the more that goes down the drain.
Just like with hair, the best way to combat this is with a drain cover. Simply wait until that drain cover dries off and wipe it off to dispose of the residue left behind by your product in the trashcan.
"What About Store-Bought Drain Cleaner?"
We understand how tempting it is to reach for a bottle of store-bought, chemical based drain cleaner. It's affordable and convenient after all, right? Unfortunately, the ingredients used in these products are caustic, and actually eat away at the lining of your pipes. So the more you use them, the more likely it is that you'll be paying for repiping sooner rather than later!
For expert plumbing service, installations, or maintenance contact Reliance Plumbing Sewer & Drainage, Inc. Our knowledgeable plumbers serve the North Shore and Northwest Chicago suburbs. Rely on Reliance!