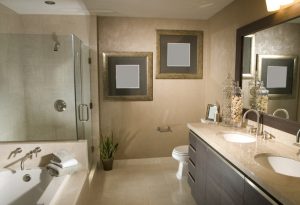 When you set out on a bathroom remodeling project, it's impossible to ignore the fact that you'll have to think a lot about your plumbing. Perhaps you're just doing a fairly "simple" job of removing old fixtures and attaching new ones, or maybe you want to move some stuff around. Either way, we recommend contacting a professional Skokie, IL plumber, especially if it involves repiping.
If you have a bit of experience here and there handling some plumbing work, like patching up a pinhole leak or tightening a connection, you may feel confident that you can handle a bigger project with ease. But you will likely end up being unpleasantly surprised. Aside from this, there are factors you probably haven't thought about that professionals deal with every day! Read on to learn more.
Consider the Age of Your Home
This will be a good indicator of the age of your plumbing system, too. We figure that if you're looking to remodel a bathroom, it's probably because you have an older home to begin with, that could use some upgrades. And if yours was built before 1970, then the plumbing material is probably too old and needs replacing, anyway.
Homes built before this period are often equipped with galvanized steel plumbing instead of copper, CPVC, or PEX pipes (all of which are superior choices). Galvanized steel might be durable, but it is prone to corrosion over time. You should have this piping replaced ASAP. Since remodeling and renovation work exposes your pipes, it's much easier and less time-consuming to handle a repiping job of this caliber as part of the overall project.
In addition, planned repiping gives you some wiggle room in the design phase of your bathroom remodel. If you or your remodelers have to work around existing plumbing, it can limit the options for rearranging the bathroom and putting fixtures in alternative locations. Our plumbers are happy to work with you to change out the plumbing entirely, in order to open up the process to more extensive re-design concepts.
Avoid Common Bathroom Plumbing Installation Mistakes
Perhaps the biggest benefit of hiring a professional plumber for your bathroom plumbing remodel is that we have the experience and knowledge to know exactly what your bathroom needs. For example, do you know your current toilet's rough-in size?
This is the name of the opening on which the toilet is installed in your bathroom. If your new toilet is too large or too small, then it cannot be sealed correctly. As a result, you will soon discover messy leaks and potentially costly plumbing repair needs.
Another example is your shower floor. Did you know that it needs to be slanted at a certain angle in order for water to drain properly? Otherwise you'd have water that's unable to go down the drain, and instead, it will just stand stagnant on your shower floor, encouraging the growth and development of mold.
For expert plumbing service, installations, or maintenance contact Reliance Plumbing Sewer & Drainage, Inc. Our knowledgeable plumbers serve the North Shore and Northwest Chicago suburbs. Rely on Reliance!