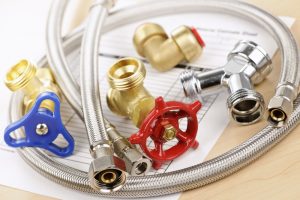 No matter what time of the year it is—the beginning of fall, during the holidays, in the middle of winter—there is never a good time to deal with a major plumbing problem. In fact, nothing kills a good mood more quickly than a leak or similar issue that forces you to call in a professional plumber in Des Plaines, IL. The good news is, you may be able to avoid this in many cases, by taking the preventive step of having an automatic shut off valve installed.
This plumbing component is placed at the apex of your home's plumbing system, and measures the flow rate of water through your pipes. When this rate increases past the prescribed amount (which indicated that water is actively leaking out of your system), the valve seals itself shut, cutting off the water supply for your home and successfully stopping the leak before it can grow. The benefits of such a device seem pretty clear, but we've highlighted the two main advantages below.
Stop a Leak before It's Even Detected
Leaks can be incredibly detrimental to your home, particularly in instances where you can't detect them or have no idea they're even happening until the majority of the damage is done. It can certainly induce panic when you watch water spread across your floor, with no quick way of stopping it.
Far worse than this, however, is the leaks you don't see—the ones that occur inside walls or in a crawlspace, where it can be months before you spot it. The automatic shut off valve prevents this damage from occurring; turning what might have been a major repair job into something a bit more manageable.
You know about the Leak Right Away
True, if you're in the middle of taking a shower or washing vegetables in your kitchen sink, it'll be pretty inconvenient if your water all of the sudden shuts off. However, you're going to notice it! This means that you're immediately notified of the problem, which enables you to address it promptly and without problems.
Automatic Shut Off Valves: Worth the Investment!
When a leak occurs within your home and spreads throughout the living space, you could be dealing with a lot more damage than you'd expect. Carpet and rugs get ruined, drywall absorbs water and thus becomes damaged, and even wood floors and fixtures can begin to develop mold and/or rot.
Your homeowners insurance may cover some of the cleanup after a problem of this magnitude occurs, but chances are it won't pay to repair the source of the leak, nor will in negate all the hassle involved with the cleanup. An automatic shut off valve installed by professionally trained and experienced plumbers gives you more than just a reliable plumbing system—it gives you a peace of mind that plumbing problems can be stopped before they even start.
For expert plumbing service, installations, or maintenance contact Reliance Plumbing Sewer & Drainage, Inc. Our knowledgeable plumbers serve the North Shore and Northwest Chicago suburbs. Rely on Reliance!