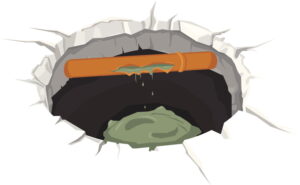 You don't like to think about the sewer line that carries waste from your home out to the municipal sewer system. Why would you? It's not a pleasant subject. Most of the time it won't even cross your mind.
Unfortunately, sometimes it needs to come onto your radar, because sewer lines aren't indestructible. They age and can suffer from damage that will lead to leaking and clogs. A damaged sewer line is a nasty problem that can bring your life to a halt and make your home temporarily uninhabitable.
The good news is that you have expert plumbers who can repair sewer lines and even replace them entirely with sewer lining Winnetka, IL. This process doesn't require ripping open your yard and spending a few days fixing the trouble. We can do the work with trenchless technology, which is fast, effective, and leaves your property virtually untouched.
But first, you have to know you've got sewer line problems starting. Catching trouble early is the key to stopping a sewage fiasco. Below are some of the signs to call us for sewer lining service.
1. Damp, foul-smelling patches on your property
A leaking sewer line will cause sewage to rise up to the ground near where the pipe is. If you notice soggy areas on your lawn or other parts around your house that give off a terrible odor, it's a huge warning of a broken sewer line.
2. Lush green grass
This doesn't sound terrible: lush vegetation around a house looks nice. But if you see a patch of grass on your lawn that has become strangely greener than the areas around it, it means sewage is leaking from below. Sewage contains nutrients that plants thrive on (that's what fertilizer is, after all), and a leaking sewer line can power up parts of your lawn. Ignore the nice color: you've got a major problem that needs attention!
3. Sewer odors from the drains
When a sewer line develops clogging, which often occurs because of tree roots growing in the pipe, it will cause a backup that pushes sewer gas in the wrong direction through the drain pipes. These gases will flow up through drains, starting with the lowest drains in the house, such as the basement drains. This odor from multiple drains means you need the sewer line inspected to see if it needs cleaning or sewer lining.
4. Gurgling sounds from the drains
Another warning of sewer gas getting pushed in the wrong direction is a gurgling sound from drains. This is the sewer gas rising up through the water caught in the p-trap. You may also hear the sound whenever you finish pouring water down the drains.
5. Sewer line age
You can also estimate when a sewer line is reaching the age where it will start to deteriorate. Modern sewer lines are made from copper, but older ones were constructed from either cast iron or galvanized steel, and both will start to corrode after 50 years. If your house is older than this and the sewer line has never been replaced, it's a good idea to plan ahead for the service.
For expert plumbing service, installations, or maintenance contact Reliance Plumbing Sewer & Drainage, Inc. Our knowledgeable plumbers serve the North Shore and Northwest Chicago suburbs. Rely on Reliance!