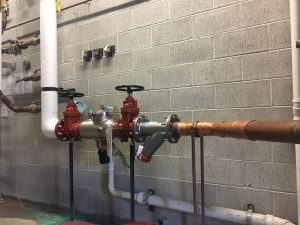 First, let's start with what backflow is. Whether we're talking about a residential building or a business, backflow is the undesirable reversal of flow in a potable water distribution through a cross-connection. Essentially, an outgoing faucet like a sprinkler head or drinking fountain can suck water back up and into the public potable water supply. It's easy to understand how this can be a problem, as it can be very unhygienic and can make people ill.
Backflow prevention is a service that is sometimes helpful for homeowners—for instance, if you have an irrigation system in place—but is particularly necessary for businesses and commercial buildings. In fact, in most jurisdictions, it is legally required that commercial buildings have a backflow prevention system in place. According to the Illinois Environmental Protection Agency (IEPA), our area is no exception.
Backflow Prevention Devices
A backflow prevention device is designed to stop backflow, and in most cases this device consists of a valve that snaps shut the moment a change in water pressure or similar hazardous situation is detected. This effectively keeps the potable water safe and allows the issue to be dealt with, without causing a public health and safety issue.
Our Reduced Pressure Zone Valve Services
One type of backflow prevention device is the reduced pressure zone (RPZ) valve. It adequately protects against two types of backflow—back pressure & back siphonage. Back pressure is what happens when there is higher pressure in the sewer system than in your commercial plumbing system, which causes the sewage to push up and into your drains of your commercial property.
Back siphonage occurs when the pressure in your commercial plumbing system suddenly drops, causing the same effect as back pressure. You may hear this referred to as negative pressure. Essentially, there's a partial vacuum that draws the water from a contaminated source into a potable water supply source.
Comprehensive Commercial Plumbing Services You Can Rely On!
You can count on our team to help your business or commercial space comply with local backflow rules, help you keep your community's water supply safe, and much more. We provide services for commercial kitchens, such as grease trap installation and garbage disposal services, in addition to water heaters services and repairs for burst pipes and frozen pipes.
Additionally, we know that no plumbing emergency ever happens at a "convenient" time, especially for a business or commercial space. When you have an urgent commercial plumbing need—whether it is a pipe that has sprung a leak or a malfunctioning grease trap—we'll handle it. We understand the unique needs of your business and that it can't operate without fully functional plumbing. For a company you can rely on, no matter what your commercial plumbing needs are, you can always turn to our team.
For expert plumbing service, including superior commercial plumbing services, installations, or maintenance contact Reliance Plumbing Sewer & Drainage, Inc. Our knowledgeable plumbers serve the North Shore and Northwest Chicago suburbs. Rely on Reliance!