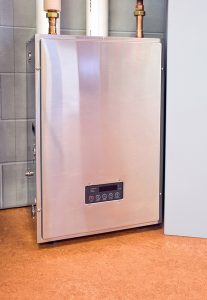 Has it come time to replace the water heater in your home? Perhaps yours has broken down, or you're tired of paying for frequent repairs. Whatever the reason is that you're looking to schedule a water heater replacement, remember that there are options to consider. There's no rule that you have to stick with the same type of water heater you've always had.
When it is time for your new Glenview, IL tankless water heater installation, you'd do well to consider a tankless water heater. There are a number of benefits to having a tankless system in your home, and we've highlighted some of those benefits below.
The Advantages of Going Tankless
Perhaps the biggest benefit of using a tankless water heater is how efficient the system is. Tankless water heaters aren't subject to the standby energy loss that tank models are. Energy loss happens when the heat within the water in the tank transfer out through the tank, into the air around it. Modern tanks are more efficient than ever before, but there is no way to completely eliminate the risk of energy loss with a tank system.
Another major benefit is the fact that tankless water heaters have such long lifespans. You'll likely notice when you're on the market for a water heater that the tankless models are more expensive to install. However, they also last more than twenty years—more than a tank system that typically lasts 10-15 years—and operate with great efficiency over that time, meaning you'll pay back the extra money you spent, easily.
Finally, you'll want to consider the space saving capabilities of a tankless water heater. Tankless water heaters take up very little room, the size of them being much smaller in comparison to their tank counterparts. They can be mounted on a wall in an unobtrusive space, give you the freedom to use the closet or garage space that your tank system was in for storage or whatever your needs are.
For expert plumbing service, installations, or maintenance contact Reliance Plumbing Sewer & Drainage, Inc. Our knowledgeable plumbers serve the North Shore and Northwest Chicago suburbs. Rely on Reliance!