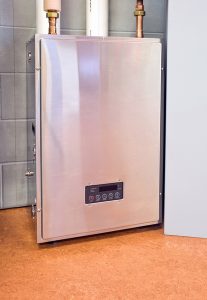 One of the most common questions we get about Glenview, IL water heater installation or replacement is whether or not these systems need regular maintenance, like other components of one's plumbing system and home.
The short answer is "yes."
Take the traditional storage tank water heater, for instance. Maintenance is required to check for scaling, which is essentially a mineral buildup that can cause problems with pressure, temperature, and possibly even corrosion. Tank water heaters may often need flushing, which we can do during maintenance. These systems also have a component called the anode rod, to absorb rust—this needs to be replaced every few years.
But What about Tankless Systems?
This is a great question! Maybe you're thinking about upgrading to a tankless water heater, or perhaps you already have one. What many homeowners don't realize is that while their service needs are relatively fewer than a storage tank system, tankless water heaters do still need maintenance, and for some of the same reasons. Keep reading to learn more!
Scaling Impacts Tankless Water Heaters
That scaling process we mentioned above is not exclusive to storage tank water heaters. In fact, scaling can lead to an early demise for your tankless system if you don't keep up on maintenance. Scaling is caused by hard water—water with the presence of calcium and magnesium (and potentially other minerals). Scaling is what we call it when mineral deposits are left behind in pipes or plumbing appliances.
What it does is that it damages the heat exchanger of your tankless water heater—the component, of course, responsible for actually heating the water. You need the heat exchanger to be clean at all times so the water heater can do its job. Scaling causes the burners to work harder, and can even overwork a tankless water heater to the point that it breaks down entirely.
How Often Should You Schedule Maintenance?
This is another great question! We typically recommend that you schedule water heater maintenance once a year for tank models. It's a good idea to stick to this schedule for tankless systems, too.
Now, depending on the level of hard water in your community, you might be able to go two years between maintenance sessions for your tankless water heater. But the best way to determine that is to talk to a plumber. We can test your water for hardness or at least give you guidance on what to look for.
Remember though, no matter how diligent you are about maintenance, your water heater will eventually wear out to the point that you'll need a new one. The good news is, by keeping up on those maintenance appointments, you can reasonably expect the average water heater to last 20 years or more.
Be sure to consult with a professional plumber to determine what kind of state your water heater is in, whether you're currently using a tank model or tankless system, to see if replacement is near or if you simply need a thorough maintenance session.
For expert plumbing service, installations, or maintenance contact Reliance Plumbing Sewer & Drainage, Inc. Our knowledgeable plumbers serve the North Shore and Northwest Chicago suburbs. Rely on Reliance!