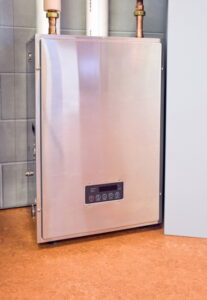 We are big advocates for tankless water heaters at Reliance. Installing a tankless unit in a house is a great way to cut down on energy costs—keep in mind that a home's water heater consumes more power than almost any other appliance. Tankless water heaters also save space, last for years longer, and have the benefit of never running out of hot water.
There are downsides to tankless water heaters compared to more traditional water heaters, however. One is the initial cost of installation. A tankless water heater can pay back that initial cost in a few years, but it can present a barrier for some homes. In addition to the price tag, tankless water heaters can't always be simply snapped into place after taking out the home's older water heater. The home may need several plumbing and electrical upgrades to accommodate the new water heater. We'll look at several below.
Gas line upgrade
The most common type of tankless water heater burns natural gas. If your previous water heater also was gas-fired, you may still need to upgrade the gas line for the tankless water heater or possibly have a new line installed to meet the different requirements of the new technology.
Electrical circuit upgrades
A similar issue applies to electric tankless water heaters. These units have a larger electrical demand than standard storage tank electric water heaters. If you live in an older home that hasn't had its electrical system upgraded in decades, you may need to have this done before you can use a tankless water heater.
Proper ventilation
Any gas-powered unit requires ventilation to exhaust toxic byproducts from the combustion safely from the home. If you're switching from a gas water heater to a tankless water heater, you'll already have ventilation in place. However, the tankless water heater may need to be installed in a different location, and this will require adjustments and modifications to the gas venting system in order to keep the unit up to local codes.
Water filters
Tankless water heaters are much more susceptible to damage and clogging due to high mineral content in the water. This is because tankless systems have much smaller inlets for water to pass through. Because of this, it's recommended that any home getting a tankless water heater also installs a water filtration system if it doesn't already have one in place.
Permits
While not a change to your home, permits are something you'll need to think about before having a tankless water heater installed. You may require electrical and plumbing permits from the local building department in order to have a tankless unit so that your home stays up to code and is compliant with local safety regulations.
If you want to find out more about water heaters in Long Grove, IL, and the possibilities of getting a tankless unit, we're the experts you can trust. We aren't satisfied with our work until you are!
For expert plumbing service, installations, or maintenance contact Reliance Plumbing Sewer & Drainage, Inc. Our knowledgeable plumbers serve the North Shore and Northwest Chicago suburbs. Rely on Reliance!