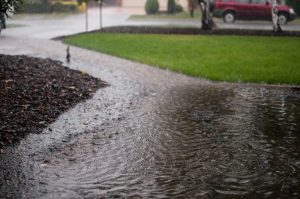 Spring is when Illinois experiences heavy rainfalls and even flooding. It's not pleasant to think about flooding for your home, but if you have good flood control systems in Wilmette, IL, you'll have much better peace of mind. (And remember, even when it's not the rainy season, a major plumbing disaster in your home can also result in flooding.)
But do you have a good flood control system? Unfortunately, homeowners often don't think about this until flooding happens, either in their home or across their outside property. There are various components of flood control systems to help homes deal with yard drainage, basement drainage, and rain harvesting.
What Constitutes Flood Control Systems?
The term flood control is broad and includes any method used to prevent flooding damage to a property. Some of these methods are extensive construction projects, such as placing a house up on an elevated platform, the building of levees and retention ponds, and the installation of floodgates.
However, your house already has its hardscape and foundation set up, so unless you're undertaking a massive restoration project, you'll be looking at different types of flood control systems: irrigation drainage, gutters, downspouts, sump pumps, basement flood control, window wells, and more.
Recommend Flood Control Systems
Let's get into some of the actual flood control systems you may need for your home, or which you may need to have repaired, cleaned, or replaced. Our team of plumbing experts work with many residential flood control systems—please ask us about the ways we can better protect your home from water damage.
Sump pump: This is a basic tool we think all homes in the area should have. A sump pump is placed into the basement (or crawl space if the home lacks a basement) where it collects water in a pit and then automatically pumps it out of the house into a drainage system. If you already have a sump pump, we recommend having it maintained before the storm season.
Window wells: These are wells that surround your basement window. Their purpose is to prevent water getting into the basement through the windows. They can be made of corrugated metal, masonry, plastic, or pressed treated wood.
Downspouts: The drainage system for gutters. The water in gutters goes down the downspouts and into drains that remove the water into an underground storm drain. Downspouts must remain in good condition to properly drain storm water or else water will overwhelm the yard.
Rain harvesting system: Also called rain catching, these systems route water from the gutter downspouts to a water tank. This not only helps to stop flooding, but it recycles water that can be used later for gardening and cleaning.
Finally, although not a "flood control system," we strongly recommend you have flood insurance for your home. You might think that your home insurance already covers this, but many home insurance policies do not include flood damage coverage. We recommend carefully examining your policy to see what's covered and whether you need to have flood insurance as well.
For expert plumbing service, installations, or maintenance contact Reliance Plumbing Sewer & Drainage, Inc. Our knowledgeable plumbers serve the North Shore and Northwest Chicago suburbs. Rely on Reliance!