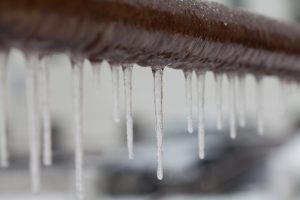 It's rare for burst pipes to occur in the warmer time of the months. Homeowners tend to have visions of clogs and leaks backing up to a point that their pipes explode, but this is a little over the top. Burst pipes are a possibility, but not due to clogs—it's due to the water in those pipes freezing.
There are actually a number of plumbing problems that can occur this time of the year, and our professional plumbers are familiar with all of them, and therefore can help correct each one. However, we'd like to give you some info on how they occur so you can watch out for them and maybe even prevent damage to your plumbing in Wilmette, IL.
Frozen/Burst Pipes
Back to burst pipes—this is actually the #1 biggest winter woe for homeowners when it comes to their plumbing systems. Pipes that are not well insulated or are in spots that aren't well heated are in danger of freezing. If you encounter problems with your home heating system, such as a furnace breakdown, your risk of frozen pipes increases—at least if you don't have them properly insulated.
Frozen pipes block water flow, and as we mentioned, increase the likelihood for bursting. This doesn't occur due to the freezing itself but rather the thawing process. What happens is that the pressure in your pipes changes as the frozen water thaws, and this is what causes the burst to occur. This is a big reason we advise calling in a professional plumber if you do have frozen pipes, as trying to thaw them on your own could end in a plumbing catastrophe and injury on top of that.
Failed Water Heater
Your water heater is at more of a risk of breaking down during winter than any other time of the year. This is because your hot water use is much higher this time of the year, and therefore puts the system under more stress. But there is another issue at hand here, too—water entering the water heater is colder now than during the rest of the year, which forces your water heater to work harder to warm it.
Be sure to keep a close watch on this system this season. You may notice things like a decline in water temperature from the taps, loss of water pressure, or rumbling sounds from the water heater tank itself. These signs can all be very subtle, so if you suspect a problem, the best thing you can do is call a plumber in to inspect.
Clogged Drains
It's the aftermath of the holidays, and during this time of the year our plumbers get a lot of calls for clogged drains (in fact, Thanksgiving time tends to be the busiest for plumbers!) Not only do homeowners put large amounts of food waste down their drains, but they also pour FOG (fats, oils, and grease) down too.
These waste items might not cause a problem right away, but can build up over the following weeks. If you haven't had a drain cleaning done in a while, it's a good idea to call for one now. And please do not use the store-bought chemical drain cleaners! These are caustic and can do more harm than good to your plumbing system.
For expert plumbing service, installations, or maintenance contact Reliance Plumbing Sewer & Drainage, Inc. Our knowledgeable plumbers serve the North Shore and Northwest Chicago suburbs. Rely on Reliance!