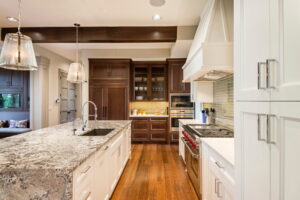 You may have heard the term slab leak before and not thought much of it. If you are a homeowner or even a renter though, then it's a term you want to know. It's the term given to any leak that occurs in the cold or hot water pipes that run beneath the concrete foundation of your home. Slab leaks not only create substantial water waste, but can also result in property damage, leading to mold and mildew growth among other issues. A slab leak can also add extra strain to your water heater if the leak is happening in the hot water lines—and this is most frequently where they occur.
Fortunately, you have our professional and reliable plumbers on your side to help. But what causes a slab leak anyway. Shouldn't a pipe set down in concrete be well insulated from such problems?
The thing is, there are a number of factors that can lead to a slab leak. We'll uncover them below.
Added Pressure
If there is too much pressure placed on the pipes underneath the foundation of your home, a slab leak can happen. This type of pressure comes from a couple of different things, such as the shifting of soil or a poor construction job to begin with. Pressure can also come from inside the pipes—water pressure, that is. If you have a clog or another issue with water pressure, it can definitely cause chaos for your plumbing system.
Corrosion
Remember how we mentioned that slab leaks most often occur in hot water lines rather than cold water lines? The reason this occurs is because corrosion is more common inside hot water lines. The reaction between the material of your pipes and the heat of the water can cause the pipe to begin corroding from the inside out.
This does not mean that corrosion can't happen with cold water pipes, too. Using chemical drain cleaners or flushing things that really shouldn't be flushed can contribute to corrosion in the cold water pipes, as well as water pressure like we mentioned above.
Plumbing corrosion is more likely to occur in an aging home than it is a modern one. The reason for this is because aging pipes have copper or galvanized steel pipes, typically. Copper is pretty corrosion-resistant, but that's not the same thing as corrosion-proof. A process referred to as electrolysis can cause copper corrosion.
Abrasion
Have you ever been somewhere that you see exposed pipes? Perhaps you have exposed pipes in your own home—in the basement or underneath the sinks in your home. You might notice that they rattle a bit as water passes through. This is because they expand and contract with the temperature fluctuations.
This happens with all pipes, and when it involves the pipes that run beneath your foundation, it can absolutely lead to a slab leak.
For expert plumbing service, installations, or maintenance contact Reliance Plumbing Sewer & Drainage, Inc. Our knowledgeable plumbers serve the North Shore and Northwest Chicago suburbs. Rely on Reliance for expert plumbing services in Chicago and beyond.