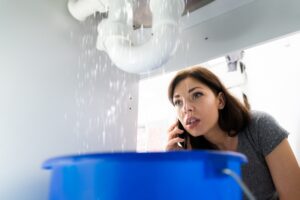 Whoever said that being "popular" was a good thing had it all wrong. Just like you don't want those popular mean girls in your home, you also don't want popular leaks in your plumbing system.
The good news is, however, since they're popular, we know what to look for, and we're prepared to share some wisdom with you! From leaky pipe joints from aging plumbing to slab leaks, there are some common leaks that if you know what to look for, you can mitigate damage before they turn into huge emergencies. Of course, our team is here to help whether you only suspect a plumbing problem and need leak detection, or you need us for emergency repairs after finding a burst pipe has water gushing into your property.
Without further ado, the most "popular" leaks include:
Pipe leaks under sinks due to loose joints.
Slab leaks, a.k.a foundational leaks.
Leaks in pipes behind drywall.
Toilet leaks.
Water heater leaks.
So, what are the signs a leak like this is occurring? Read on!
The Leading Signs You Have a Leak
While you'll want to hire a trained and experienced professional leak detection service, such as our team, to pinpoint the exact area and cause of a leak in order to have it repaired, there are some indicators that you can watch and listen for so you know to call us. This includes:
The Sound of Dripping or Running Water
If there aren't any plumbing appliances running in your home–nobody is taking a shower or using a sink, and your dishwasher and clothes washing machine are off–then you shouldn't hear water running or dripping, right? If you do, then it's definitely a sign that water is leaking from somewhere, and it's time to call in a professional.
Soft Spots on Your Ceiling or Drywall
Over time, moisture from leaking pipes can damage your drywall or ceiling. This can eventually lead to soft, moist spots in your walls or ceiling. The unfortunate part of this is by the time you see this water, the leak has probably been occurring for some time. But the good news is, the sooner you call us the faster we'll mitigate any future problems.
Loss of Water Pressure
A drop in your home's water pressure means that there is something preventing water flow from being as powerful as it normally is. This can be the result of work being done in your municipality, so you should of course check with your city, first.
But in the absence of this, you could very well be dealing with a leak somewhere. If the water pressure in your entire home is impacted, you might have a problem with the main water line, which should be addressed right away. It's also important to note that if the drop in water pressure is slow over time, it's the sign of a clog–while if the drop is sudden, you've likely had a pipe burst.
Contact Reliance Plumbing Sewer & Drainage, Inc. when you need a reliable, professional, plumber in Evanston, IL. Rely on Reliance!