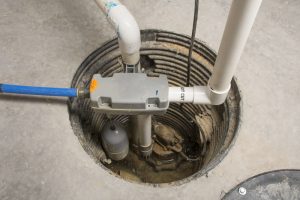 When it comes to weather in Evanston, there are two conditions we're pretty well known for—snowstorms in the wintertime, and rainstorms pretty much any time of the year. While we don't have to worry about snow for the time being, it's important to be aware of the risks that come along with the heavy rainfall we're bound to experience from time to time. In particular, it's important to be aware of your home's risk of flooding, especially your basement area.
If there are areas of your home that are vulnerable to this type of flooding, then you would do well to have a sump pump system installed by a professional plumber in Evanston, IL. Otherwise, you could find yourself spending a significant amount of money on water damage repair.
The Power of a Sump Pump
A professionally installed sump pump will effectively protect a single area in your home from moderate flooding. It's worth mentioning that sump pump can't protect against the type of flooding that would submerge an entire room, but if deployed properly, it can prevent quite a bit of damage.
How does this work? Well, a sump pump is installed by digging a small pit at the lowest point of the area. This pit is what's called the sump, and any water that enters this area will flow downhill into the sump. The sump pump is then installed either directly into the sump or above it, with a pipe that extends from it out of the home. As the water level inside the sump rises, the pump activates and pumps it out of the house, thereby preventing the room from flooding, since the water level never rises out of the sump.
Installing a Sump Pump in Vulnerable Areas
Have you ever needed water damage repair in your home? If so, you know how costly it can be. Even a small amount from a seemingly minor plumbing leak could cost thousands of dollars to repair, depend on where it was located. So if you can prevent it, shouldn't you want to?
This is particularly true for areas that have vulnerable equipment within them. This can include your HVAC systems, water heater, electrical equipment and wiring, and more. Naturally, you don't want these things exposed to large amounts of water. Even if your sump pump only protects the space in which you install it from flooding a few times a year, it can end up paying for itself quickly in the money you save on repairs.
So, as we've mentioned, there is one particular area that most commonly sees sump pump installations, and that's the basement. This certainly isn't the only area of your home that might need a sump pump, though. Any room in your living space that rests below ground-level, or is commonly exposed to water when rain occurs, may benefits from a sump pump installation. If you aren't sure whether or not an area of your home would benefit or if a sump pump is worth the investment, feel free to reach out to our team and we'll help you make an educated decision on the matter.
For expert plumbing service, installations, or maintenance contact Reliance Plumbing Sewer & Drainage, Inc. Our knowledgeable plumbers serve the North Shore and Northwest Chicago suburbs. Rely on Reliance!