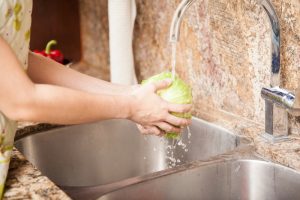 As the weather chills off and we inch closer to the end of November, there's no denying that the holidays are just around the corner. This is the time of year for giving, but also for plumbing issues! Homeowners unknowingly dispose of certain items down their kitchen drain incorrectly, overuse their garbage disposal, or don't invest in maintenance before this heavy period of use.
As a result, they find themselves making an emergency call to a Evanston, IL plumber. While we're available for emergencies, we would like to help you avoid them. After all, nobody wants to face a holiday plumbing disaster, right? Keep reading for some tips on how to protect your kitchen sink this holiday season.
Avoid Pouring FOG Down the Drain
FOG stands for fats, oils and grease. Baking, frying, or roasting—most or all of which occur during the festive holiday dinners—as well as the use of cooking oil creates excessive FOG that require disposal. So, many people pour it down the drain, as this seems like a natural way to get rid of it.
However, FOG hardens as it cools. This means that it begins to build up on the inside walls of your pipes, until eventually your drains can become clogged to the point that they're unusable. At this point you could find yourself in the middle of cooking a holiday feast only to have to stop the process and call in a plumber.
Avoid Table Scraps, Too
Garbage disposal systems are very effective at breaking down most food waste, but there are a few items that you should throw in the trash can, instead. This includes things like fibrous vegetables (think celery). The reason for this is because the fibers become intertwined and tangled in the disposal, bringing it to a halt.
Potato peels have also proven problematic for kitchen drains. It's a good idea, for things like this, to use a drain basket or a strainer in your sink to catch smaller food items rinsed from your plates and utensils, to be on the safe side.
Keep an Eye on Your Bathroom Drains, Too
We know we're focusing on the kitchen here, but the bathrooms bear mentioning, too. Be sure to remind any of your holiday guests that you might have in your home, that they should never flush paper products such as paper plates and paper towels, foods, wet wipes, or sanitary product down the toilet.
Even those that are labeled as "flushable" can be a problem, despite how they're marketed. Avoid these issues by having a trash can ready in each bathroom of your home—and clearly visible.
If You Come Across a Clogged Drain
So, what if you come across a clogged drain, or one that's backing up? You could try to resolve it with a plunger and a little bit of "elbow grease," which may do the trick. If it doesn't, however, we urge you to give us a call for professional drain cleaning, rather than reaching for a bottle of chemical liquid drain cleaner you can buy at the hardware store.
The problem with these chemical drain cleaners is that they are a very temporary solution to an ongoing problem. Professional drain cleaning ensures that the clog is relieved and that your pipes stay clear in the future.
For expert plumbing service, installations, or maintenance contact Reliance Plumbing Sewer & Drainage, Inc. Our knowledgeable plumbers serve the North Shore and Northwest Chicago suburbs. Rely on Reliance!