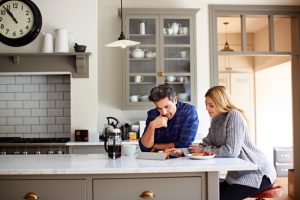 Now is the time of year when residents in our area start dreaming of spring, warmer weather, and home projects such as remodeling. If you're considering having your kitchen remodeled, there's no bad time to do it! In fact, we have some tips when it comes to your plumbing components within your kitchen.
When you think of kitchen remodels, you're probably focused more on the cabinets, flooring, and maybe even the major appliances such as your fridge and oven—but thinking about your plumbing can be very beneficial! Keep reading for some great tips, and when you're ready, contact our plumbers in Libertyville, IL.
Look for Ways to Lower Energy and Water Use
Chances are, when you first started thinking about your kitchen remodel, this wasn't high on your list of priorities. But many the homeowners with an older kitchen has found that a major plumbing overhaul can reduce their energy waste.
There are other ways to reduce energy waste in a kitchen remodel, such as choosing better, LED lighting and high efficiency appliances. But you can also choose plumbing fixtures like your kitchen sink with a low-flow function to decrease your water use and thus your water bills!
Increase the Value of Your Home
Any remodel can help increase the value of your home. Whether you think you're going to sell your home soon, or way off in the future, it's never a bad investment to increase its perceived value. And kitchens are one of those places in homes that get the most scrutiny from buyers.
A worn-out, old fashioned kitchen with outdated plumbing appliances gives your home a tired look. Plus, outdated plumbing means inefficient and costly plumbing. For a potential homebuyer, it also means potential plumbing repairs soon after they move in, which is all they'll see.
A kitchen remodel that includes plumbing updates gives your home a 21st century update and helps your home feel newer. Even if you plan on staying in your home forever,youru whole family will be able to enjoy an updated kitchen.
Embrace Change
Sometimes, the best reason to remodel and update your kitchen is to create some change in your life—something fresh and new! If your current kitchen has outdated, malfunctioning, or even just cruddy looking plumbing fixtures, you probably don't like spending a whole lot of time in this room. If this is the case, there's no time like the present to have it redone.
To make the most of your kitchen remodel and achieve your goals, it's best to work only with professionals. Trying to do the work on your own can lead to costly repair needs. You can contact our team when your kitchen remodel requires any plumbing upgrades. We install and service the best in kitchen faucets and kitchen sinks. You can also turn to us for garbage disposal installation, repair, and maintenance!
For expert plumbing service, installations, or maintenance contact Reliance Plumbing Sewer & Drainage, Inc. Our knowledgeable plumbers serve the North Shore and Northwest Chicago suburbs. Rely on Reliance!