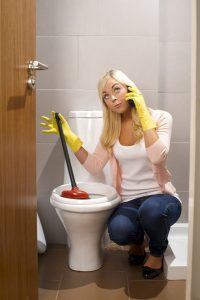 Good plumbing companies often offer emergency services for those times when a plumbing problem simply cannot wait. And let's face it, leaks, clogs and other major issues very rarely happen at a "convenient" time, let alone during normal business hours. Because your plumbing system is such a vital component to your home, you're usually unable to just sit on the problem until you can schedule an appointment.
Calling our team for emergency services will ensure the issue gets fixed right away, and that your plumbing system will be back up to speed shortly. But how do you know when you need this particular professional Des Plaines, IL plumbing service? Well, it depends on a number of circumstances. For instance, a small drip coming from a faucet, naturally, will not be much cause for concern. If however, there's water spreading across your kitchen floor, that's a whole different story.
What To Do When There's an Emergency
There are some instances in which you're going to know a plumbing problem warrants an emergency call—like if there's water gushing from a burst pipe into your home. But even in this scenario, there are some steps you should take right away before our team gets there.
Shut off Your Water: Your home has a main water shut-off valve that cuts off water supply to your whole home. It's important that your family knows where this is located. If the problem is localized to one area—under a kitchen sink for instance—there may be a shut-off valve for just that sink that you can access. If not, or if you're unable to shut it off for any reason, use the main water valve.
Clean Up Water As Much As You Can: Standing water creates a breeding ground for mold, mildew, and other bacteria. Therefore, you want to clean up as much water as you can, and start the drying process right away—especially if carpet was affected.
Call Us Even If You're Unsure: Let's say you shut off a sink valve, cleaned up the water, but you're unsure or uneasy about what might happen next. Not to worry! Give our team a call and we'll help you assess what the next best step is, whether that is emergency services, or if you can hold out until the following day.
What Constitutes an Emergency
There are some plumbing problems that seem subtle enough that they can wait. However, for many of these issues, chances are you don't see the signs of a problem until it's pretty well developed. Here are some examples of emergency plumbing issues:
Slab Leaks: Most often detected by homeowners via a warm spot on the flooring of their living space, slab leaks describe breaches in the plumbing system that runs underneath the foundation of the home. If not dealt with right away, you could find yourself facing extensive property damage and costly repairs.
Sudden Drop in Water Pressure: On rare occasions, this could be due to your municipality doing work on the main water line. But if there's no indication that this is the case, you could be dealing with a massive sewer line or main line blockage, whether it be from waste buildup or even tree roots. Be sure to call us right away, as you might be dealing with a pipe rupture, which should never wait.
For expert plumbing service, installations, or maintenance contact Reliance Plumbing Sewer & Drainage, Inc. Our knowledgeable plumbers serve the North Shore and Northwest Chicago suburbs. Rely on Reliance!