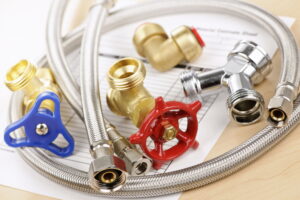 Nobody wants to deal with a huge plumbing emergency, but you have a great source for help when one does happen: you can call our team for 24-hour plumbing in Des Plaines, IL or anywhere else in our service area in the Northshore and Northwest Chicagoland. But before you call us, you may want to shut off the water to your house to stop potential flooding problems. This will help you get a handle on the situation and avoid excess damage and expensive remediation costs later.
But wait … do you know how to shut off your home's water supply? If the answer is no, then we're glad you stopped by our blog today. We can help you find out how so you'll be prepared in case of a big plumbing emergency.
Finding the Shut-Off Valve
To turn off the water to your home, you need to locate the shut-off valve for the water main. There are two specific places to look for it:
Near the home's water meter. In most homes in Chicagoland, the water meter is found in the basement. 

Close to the curb in front of your house. You'll find a plastic or concrete cover at the edge of your property, probably labeled "water." Life up the cover (this may require using a screwdriver to get under the lid) and you'll find the water meter below. 
The meter has two pipes connected to it: the house-side pipe and the city-side pipe. The shut-off valve is located on the city-side—in fact, that's how you can tell it's the city-side.
Shutting Off the Water
Now that you've found the shut-off valve, you can just turn it fully to shut off the flow of water. Simple, right? Well, not all of the time. Not all valves have a basic handle. They may require a special tool resembling a ratchet to attach to the valve and turn it. The tool should be hanging next to the valve for easy access. If it isn't, you can purchase one from a hardware store—and you'll be glad you took the precaution of checking on the water meter to discover you needed to go buy one!
Please share this information with any adults in your home so they'll be ready to shut off the water if you aren't there.
The Automatic Shut-Off Valve
This is a good time to mention the automatic shut-off valve, which is a helpful device you can have our plumbers install onto your home's water line. An auto shut-off valve takes over the job of turning off the water supply to your home in case of an emergency—you won't have to do anything. This is extremely helpful for when you're away from home. You won't have to worry about your house flooding! 
The valve detects when there's a sudden drop in water pressure in the house, which can indicate a plumbing breach indoors. Automatic shut-off valves can also use floor detectors in key spots in the house that will detect the presence of water and warn of flooding. 
Reliance Plumbing Sewer & Drainage, Inc. serves the Northshore and Northwest Chicagoland. Call us when you need 24/7 plumbing emergency assistance.