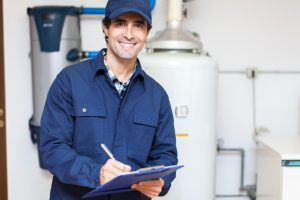 It likely goes without saying that your plumbing system is vital to the comfort of your home. Modern homes just aren't built to be without plumbing! So when you encounter problems with that system, it can pretty much bring your life to a halt, if even temporarily. When this happens, it's vital that you have a plumber you can trust, who you can call right away. You want a plumbing contractor who can not only get the job done, but give you the peace of mind that your plumbing system is in better shape than it was before they came.
The thing is, not all plumbing contractors are the same. There are a number of folks out there who are handy with a wrench and a leaky faucet, and they offer services to do just that. But when it comes to really addressing the needs of your comprehensive plumbing system, you need much more than just some general knowledge. You need a team that is expertly trained and qualified to deal with all sorts of plumbing needs.
How do you know if this is what you're getting? Well, consider the following factors:
A Good Plumber Values Your Time
A plumber who gives you a generic time for when they'll come to your home for a scheduled appointment (such as, between 8-2) instead of a more precise time may not be a plumber you choose to hire.
Of course, things are often unpredictable and your plumber could end up having an emergency crop up that delays them showing up at your door. But in this case, the plumber should be in direct contact with you to let you know, either allowing you to reschedule or giving you a clearer estimate on when they'll be able to come.
A Good Plumber Can Provide an Accurate Estimate
The cost of your plumbing work may vary. Let's say that you have a plumber coming over to fix a pinhole leak and they discover that your plumbing is so old that it's only going to lead to more leaks, and you need repiping. Repiping will be more costly than fixing a leak. However, your plumber should be able to give you a pretty accurate estimate of what the work that you originally called them for will cost you.
A great plumber will give you a detailed estimate that highlights the costs for materials as well as labor, and they'll be upfront about potential problems they could run into. This is a plumber you can trust.
A Good Plumber Is Happy to Show You Their Credentials
Professional plumbers go through many years of training, and special certification, that qualifies them for the job. They also have the appropriate licensing and bonding to prove that they can offer high-quality service. This is what you can count on with Reliance! Make sure that you get in touch with us today.
To get in touch with a professional, reliable plumber in Evanston, IL, contact Reliance Plumbing Sewer & Drainage, Inc. Rely on Reliance!