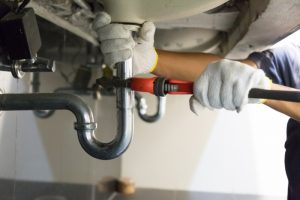 Can't a general handyman, or even a diligent homeowner, where you'd need to pay less money, do just as effective a job as a professional Evanston, IL plumber?  We know this is a tempting solution to your plumbing woes, however, your results simply won't be the same. Our professional plumbers have been in the industry for many years, and we've seen what can happen when homeowners believe they can watch an online video and resolve issues on their own. Plumbing is a tough job! Anything beyond clearing up a superficial clog or replacing a sink faucet aerator can benefit from the expertise of a professional.
Read on as we uncover why it is so important that you hire a licensed and insured plumber to do work in your home. Although hiring an inexperienced handyman or taking this on as a DIY project might save you money upfront, in the long run making this decision could end up costing you more.
Your Plumber Should Be Licensed
In our area, plumbers must have a specific amount of experience to qualify for what is called a journey level of specialty plumber certificate, which at the lowest levels enables professional plumbers to install, maintain, and repair plumbing in single family dwellings, duplexes, two-flats and three-flats.
Given the specific qualifications that state licensing holds for plumbers, you don't want to trust these services to just anyone, not even yourself, for risk of a job done incorrectly, or damage done to your property.
Professional Plumbers Carry Insurance
It's vital that licensed plumbers also be insured to work in homes within your area. In most cases, state licensing requires a minimum general liability polity for plumbing contractors. This ensures that if a plumber causes damage to your property, the contracting company pays for it, rather than you being financial responsible since you didn't have a licensed plumber on hand.
Professional Plumbers are Properly Trained
Professional plumbers throughout Chicagoland go through years of training and education in order to do whatever plumbing job is asked of them. Under the guidance of an experienced team, they're able to learn the robes, including how to diagnose and repair any plumbing problem your property might experience.
The Problem with Amateur Work
Choosing a handyman or deciding to do a plumber's job on your own could wind up leaving you in a bind. Sure, initially it seems like a good idea. After all, the price is right!  However, there's a reason it costs what it does to hire a licensed, insured and experienced plumber—you're paying for reduced mistakes in addition to materials and equipment that only a professional has access too. With a general handyman, you might experience the following problems:
The wrong tool might be chosen for the plumbing problem, causing even more damage to your pipes.
You or the amateur plumber you hire might not have inspection equipment in order to help them find a leak or a clog and determine the full extent of the problem.
Your plumbing installations may be done shoddily.
You might fail to follow local codes.
A poorly done job could leave you paying even more to have a professional plumber fix the damage.
Don't take the risk! Reach out to our professional plumbers today.
For expert plumbing service, installations, or maintenance contact Reliance Plumbing Sewer & Drainage, Inc. Our knowledgeable plumbers serve the North Shore and Northwest Chicago suburbs. Rely on Reliance!