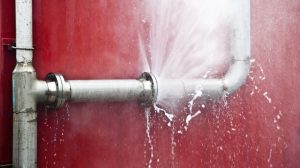 Plumbing problems are likely something you've dealt with before in your home, and hopefully were able to resolved quickly and affordably. Unfortunately though, this is not always the case, as plumbing fixtures are mostly hidden from view and it can be hard to detect when something is wrong. When this happens in your commercial building or business, then the problem is amplified even more.
A commercial plumbing problem means a huge inconvenience for you as a business owner, and potentially even a costly business interruption. This is why when you do have a problem, you contact a professional plumber in Evanston, IL who specializes in commercial plumbing.
Reasons You May Need a Professional Commercial Plumber
There are a number of reasons you may want to call a professional to handle your commercial plumbing issues, such as:
Emergencies: A sudden leak, clogged toilets, a broken grease trap in your commercial kitchen, or even a suspected sewer line blockage can bring your plumbing—and thus, your business, to a halt.
Water Heater Services: Commercial water heaters are, understandably, under a lot of stress with the demand placed on them. This is why it's vital to have someone experienced with these particular systems handle your commercial water heater services.
Frozen Pipes: Hopefully, you'll take precautions to avoid this from happening at all. But if it does occur, it's good to know that you have professionals standing by who have extensive experience dealing with this plumbing problem.
Taking the "DIY" or "Easy" Approach
Have you ever been tempted to handle plumbing problems in your commercial building on your own? Or perhaps you'd like to leave it up to the building's janitor or general handyman. Unfortunately, this can be a mistake. Take something like clogged drains for instance—the DIY or easy approach would be to buy some chemical drain cleaner and poor it down, but this isn't always a solution. In fact, it rarely is.
Chemical drain cleaners are caustic, first off. They eat away at the pipes internally, eventually leaking to breaks and leaks. Additionally, drain cleaners of this kind only offer a temporary solution to the problem. You'll probably find your commercial building in need of the service again in 3-6 months. This is because store bought drain cleaners do not get rid of whatever was clogging up the drain—they just loosen it up a bit. But then it builds back up and you're back to square one.
A professional will come in and first take a look at your drains using video pipe inspection, to safely and unobtrusively find where the blockage is. Then, we'll use any one of the professional methods that will be best for your drains, and use it to relieve your drains of whatever is clogging them. One of these methods is hydro-jetting, and is not only effective at eliminating clogs but preventing them from coming back.
For expert plumbing service, installations, or maintenance contact Reliance Plumbing Sewer & Drainage, Inc. Our knowledgeable plumbers serve the North Shore and Northwest Chicago suburbs. Rely on Reliance!