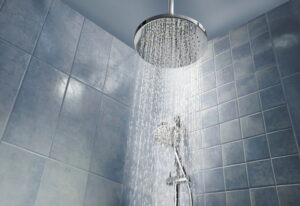 Any plumber will work extensively with bathroom plumbing, since this is the room of a house that has the highest concentration of pipes, drains, and fixtures. Along with the many bathroom plumbing repairs and drain cleaning that our professional plumbers perform, we also handle new shower installation in Glenview, IL.
You may be in a situation where you've got an older shower that's an eyesore or isn't working effectively anymore and you want to upgrade it. You might have someone in your home with mobility issues who would benefit from a different type of shower. Whatever the reason, you're looking to have a new shower installed. There are several choices of shower types to consider. We'll go over the most common shower types and look at their benefits.
Standard walk-in shower
One of the most frequent upgrades homeowners make to their showers is to switch from a shower-and-tub combination (often with a shower curtain rather than a shower door) to a walk-in shower. There are several different types of walk-in showers and we're going to look at a few of them, but in general a walk-in shower is a good option if you're not using the tub often and want a shower with easier access. This is often a good place to start when upgrading a bathroom for mobility.
Glass enclosure shower
This is a walk-in shower that doesn't include a shower door. Instead, the shower area is walled off with a single pane of glass and the fixtures are at the far end of the shower area. These are among the best types of showers for mobility, since there's no door or frame to make entry into the shower difficult. They are also among the easiest to clean. However, they can have some water spillage into the rest of the bathroom.
Corner enclosure shower + bath
If you have the space available in your bathroom and are planning to make significant changes to the whole room, putting in a corner enclosure shower with a bath next to it is a great luxury option. The shower itself has a simple design: one glass panel, one glass door, and two corner walls. Even if you don't have a bathtub, the corner enclosure shower is a simple but elegant design that saves floor space.
Curved enclosure shower
If you have a small bathroom and want to save some space, this is a good choice. These showers go in the corner of the bathroom and have a curved sliding door that won't intrude into the rest of the space. The curve also makes them a better use of space than square corner showers.
Shower and tub combination
You may already have a walk-in shower but are looking to shift to the tub-and-shower combination. There are several stylish options for this type—you don't have to go the old style with a simple shower curtain. They're good space-savers and work well for homes with small children.
For expert plumbing service, installations, or maintenance contact Reliance Plumbing Sewer & Drainage, Inc. Our knowledgeable plumbers serve the North Shore and Northwest Chicago suburbs. Rely on Reliance!