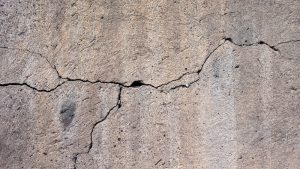 There is no plumbing system anywhere that is 100% flawless. At some point or another, you'll need a clog cleared out or a pinhole leak repaired. You may even need a sewer line cleared out of tree roots or a leaky faucet replaced. There is one plumbing problem in particular though that is especially insidious, and that's a slab leak.
What is it that makes a slab leak so bad? After all, aren't all leaks created equal? Well, that's something we're going to explore below—and we will also provide some tips for helping you spot the signs of a slab leak so you can take quick action if and when you encounter one in your home. Give us a call if you have any questions or concerns!
Location
A leak coming from anywhere throughout your home is a problem you'll want resolved as quickly as possible. But there are certainly some leaks that are more problematic than others—like a slab leak. Why is that? Well, due to its location.
A slab leak is a leak in a water line beneath the concrete foundation of your home—the slab. There a few different problems that can occur with a leak like this. First off, it can be very hard to even detect the problem to start with. We have a few tips to help you along, however.
Keep an eye on your water bill! If you aren't using any more water than is normal for this time of year in your household, but you see your water costs creeping up and up, then it might be due to a leak hidden within your plumbing system.
Keep an ear out for running water. If you do not have any plumbing appliances or fixtures on at the moment but you hear water running, then it's very likely that you're dealing with a leak. It may not be a slab leak per say, but that's why you should call in a pro right away.
Hot spots on the floor are another sign of a slab leak—slab leaks most often occur in the hot water lines, and therefore can lead to hot spots on your flooring. You might even notice warping or cracked floorboards if the problem is bad enough.
Call a Professional Plumber!
The first challenge with a slab leak is certainly recognizing that you even have one, but that's not the worst problem. As you may imagine, a slab leak is tough to pinpoint and access, even after you know you have one. The last thing you want to do is start tearing up your concrete slab more than necessary. Going into the job blind is not recommended!
So, it's time to hire a trained and experienced plumber. We have the tools necessary to not only find the exact location of your slab leak, but to make repairs as effectively as possible as well as recommendations for how to avoid this problem in the future.
For expert plumbing service, installations, or maintenance contact Reliance Plumbing Sewer & Drainage, Inc. Our knowledgeable plumbers in Glenview, IL serve the North Shore and Northwest Chicago suburbs. Rely on Reliance!