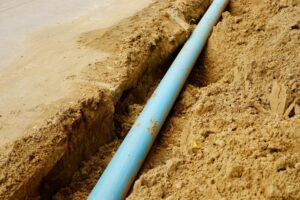 When it comes to modern homes, there probably isn't a more important plumbing component than the sewer line. A broken sewer line leads not only to unsanitary conditions, but it can totally stop up any plumbing use you have in your home. Pretty much, you won't be able to use your plumbing until you get it fixed. And for that, you'll need a professional who can get the job done as quickly as possible.
The good news is, you've come across this blog post, so you have access to professional plumbers with extensive experience in the Glenview area and beyond! We have a number of techniques and tools we utilize for reliable plumbing repairs, including trenchless technology. In the past, repairing an underground pipe meant digging up landscaping, and potentially even breaking through slab inside your property. It was time-consuming and expensive for homeowners! Fortunately, now there is trenchless sewer relining, which we are pros at! Read on to learn more about the benefits of this service.
The Power of Trenchless Technology
Unlike you see in the image above, trenchless technology is completely non-invasive and doesn't require digging up your entire sewer line. In fact, everything about this service is designed to streamline and clean up the process of repairing pipe problems.
Trenchless technology is a method that helps our plumbers approach plumbing problems underground from the side instead of digging down to access the pipe. You might hear this referred to as "no-dig" technology, lateral boring or lateral digging, and it helps avoid the largest disadvantage of conventional sewer line repair, which is how much your property has to be torn up just to access the pipe.
Trenchless technology was introduced in the 1930s and used for coal mining, and it enabled civil engineers to install pipes and power lines beneath the streets without having to tear up those streets. In some cases there may be minor digging involved, however, it can almost always be very easily replaced or re-landscaped.
Trenchless, "no dig," technology is the method of choice for underground pipe relining and sewer relining because it is much less disruptive and messy than past sewer line solutions, plus it is quicker and less labor-intensive. This is good news for not only our plumbers, but for you, since it means you'll be paying less and you won't be as inconvenienced. While sewer line repairs in the past may have meant not using your plumbing for a week or more, trenchless technology can cut this down to a couple days or less (depending on the severity of the problem). The actual service itself actually only takes a couple of hours, but you will want a professional plumber to accurately locate any and all problem areas of your sewer line before beginning, to ensure that the problem is adequately addressed.
We are your local plumber with extensive experience with trenchless technology. Please don't hesitate to reach out to us with any questions you might have!
For expert plumbing service, installations, or maintenance contact Reliance Plumbing Sewer & Drainage, Inc. Our knowledgeable plumbers serve the North Shore and Northwest Chicago suburbs. Rely on Reliance for professional Glenview sewer relining!