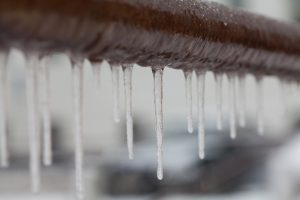 "Wait, what?" you might be wondering, "Why are we already talking about winter? Didn't Fall just start?"
Well, yes. But honestly, this is an important topic, and we'd rather you be safe than sorry by planning ahead. Once our temperatures do drop to a point below freezing, your pipes are in danger. This may not seem like an urgent need, but if you've reached the middle of January to all of the sudden find yourself with a burst pipe or similar plumbing problem, you'll be sorry if you didn't take precautionary measures.
And that's what we're going to talk about today. We want to help you take the appropriate steps to make sure that frozen—or worse, burst—pipes won't become an issue for your living space. We'd like you to take warning now, so that it won't even be a concern later. Frozen pipes are a problem enough, but what they lead to when they thaw—burst pipes—is even worse. Of course, if you do run into any sort of plumbing problem, you can reach a trusted plumber in Evanston, IL just by dialing our number. In the meantime, read on to learn how to avoid this common winter plumbing problem.
Shut Off Your Outdoor Faucets
The first step here is to open your outdoor faucets in order to let any water drain out. Then, you'll shut off these faucets at the valve. This prevents those faucets from freezing, and cracking as a result. If you still notice water dripping from the faucet after you've shut off the valve, then you may need a new valve altogether.
Disconnect Your Hoses and Drain Them
If you leave your hoses sitting out all winter long with water inside, you can't expect to not deal with freezing. True, this won't necessarily lead to frozen pipes (though, if the hoses are still connected and your faucets aren't shut off at the valve it can), but you do risk frozen and degraded hoses. Disconnect them, drain them, and store them in a location where they won't be susceptible to moisture, like a garage or shed area.
Keep Your Bathroom and Kitchen Sink Cabinets Cracked Open
Think about the pipes that run beneath your kitchen and bathroom sinks. These pipes are connected to the rest of your plumbing system, which can be in outdoor-facing walls. This makes them prone to freezing and subsequent issues. However, if you leave the cabinet doors open where these pipes are located, you allow in the heat form your heating system, which will prevent this issue.
Use Pipe Insulating Sleeves
Are there pipes in your home that are more susceptible to freezing than others? If you have an unfinished basement, we're going to guess the answer to this is "yes." Fortunately, you can purchase insulating sleeves at pretty much any hardware store. These are designed to protect your pipes. If you don't want to purchase these sleeves, then you can instead use towels to wrap around the pipes—anything to protect them from freezing weather.
For expert plumbing service, installations, or maintenance contact Reliance Plumbing Sewer & Drainage, Inc. Our knowledgeable plumbers serve the North Shore and Northwest Chicago suburbs. Rely on Reliance!