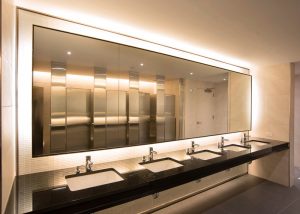 If you manage a business or own a commercial space, then you already know there are a number of things you have to think about that wouldn't necessarily concern you in your residence. While you have to worry about the safety and comfort of your family at home, certainly, in your business you also have employees, tenants, guests, and/or even customers to worry about.
That means that your Des Plaines, IL commercial plumbing needs are even greater than the plumbing needs of your home. Properly caring for this commercial plumbing will ensure that your business or commercial space stays functional and hygienic throughout the years. So how do you do this?
Schedule Commercial Plumbing Maintenance
If you want to be proactive instead of reactive when caring for your commercial plumbing, then we recommend scheduling routine maintenance! Just as you would schedule a tune-up for your vehicle, or maintenance for your commercial HVAC systems, you should be getting your commercial plumbing checked on an annual basis.
Our commercial plumbing pros will assess your entire plumbing system, giving you an accurate and current understanding of your building's needs. If you own a restaurant, this includes things like checking the garbage disposal's functionality, seeing if the grease trap needs cleaning as is operating as it should, checking the water heaters for any signs of wear or corrosion, and doing a video pipe inspection to ensure you aren't facing any leaks or corrosion throughout your plumbing system.
Even the smallest pinhole leak can account for gallons of water waste each year. This is not only bad for the environment, but it's costly for your business. With all the overhead costs you have to consider, your water bills shouldn't be costing you more than necessary!
Schedule Prompt Commercial Plumbing Repairs
Were you alerted to a potential repair need during your maintenance session? Perhaps you were told that you do have a small leak, and that your space is in need of partial or full repiping. Delaying this can not only make the resulting damage worse than it would have been otherwise, but it can also mean a huge business interruption for you, costing you much more than simply making a plumbing repair.
Maybe you were told your commercial water heater's anode rod needs replacing soon. The anode rods are responsible for absorbing rust that would otherwise eat away at the lining of the water heater itself. Therefore, you can understand why prompt replacement is important. The anode rod does not last as long as the water heater, so if you delay this type of repair, you could wind up having to replace your commercial water heater much sooner than inspected, and dealing with a business interruption until it gets replaced.
These are just a couple of examples of commercial plumbing repair needs your building might experience. Even if you just suspect a plumbing problem and don't know that you actually have one, it's never a bad idea to call a professional plumber to check it out. Peace of mind is invaluable when it comes to running a business.
For expert plumbing service, installations, or maintenance contact Reliance Plumbing Sewer & Drainage, Inc. Our knowledgeable plumbers serve the North Shore and Northwest Chicago suburbs. Rely on Reliance!