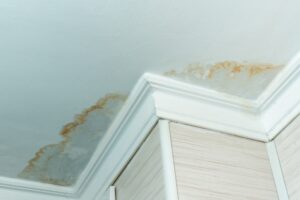 We often talk about the problem of hidden leaks in residential plumbing. It's easy for these leaks to go unnoticed for weeks or months while they raise water bills and inflict damage on building materials. But today we're going to look at when a hidden leak becomes an obvious leak. Unfortunately, it's an obvious leak that people often still overlook or delay at getting fixed. We're looking at the water stain on the ceiling!
You've probably come across this phenomenon at some point; if not in your own home than in another building. A brownish-red discoloration spreading through the drywall or other material of the ceiling. Unsightly, but maybe you only need a bit of paint to touch it up…
No, don't do this! That stain is the sign of a leak, and it means you need fast service to have it fixed. You can worry about painting over the stain later.