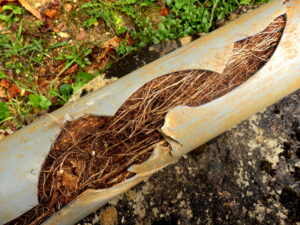 There are a number of reasons that your plumbing system's sewer line is buried beneath your property. For starters, your yard and home are more visually appealing this way. It's also for functionality as well as safety and hygiene.
Unfortunately, this does mean that your sewer line is out of sight—so hard to spot problems with it when those problems occur. One of the problems that sewer lines are susceptible to is tree root infiltration.
Tree roots, since they're constantly searching for a water source, actually are a fairly common find inside damaged sewer lines. And not only do they lead to leaks in the line, but they cause clogs and backups too. Even the smallest leak that exists in the sewer line can attract them too.